Welcome to CatDog's 1st Fan Site
June 15, 2004
CATDOG IS SCHEDULED TO PLAY A NEVER BEFORE IN USA EPISODE TODAY AT 6:30PM EASTERN!
scheduled: Ol' CatDog and the Sea
Cat Gone Bad
Hi ho diggety news! Welcome to the new generation of new CatDog leaders! Visit the brand new The Amazing CatDogman FORUM! At last a place for fans to commune that will be active! Hosted by Melissa! Best of luck on your new forum Melissa and I hope you get lots of members! Hope you like the banner I made for you.

Well it took longer than expected but been having net troubles, and other obbligations, the list is now definatly closed. I hope that someone will take my place and give CatDog fans a nice place to go and discuss the wackyness of Nearburg. Best of luck to all CatDog fans and I thank you all that I've met and contributed on the list over the years.
Any fans out there, that have a place to go for catdog and would like it advertised here, just email me and let me know, and I will put a link up here for it. CatDog needs your support.
Dr. CatDog says thanks for the letters and questions! Issue #5 is ready, for your pleasure and comfort.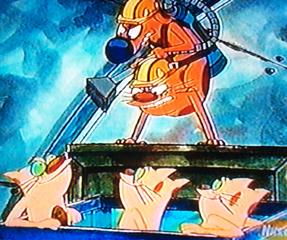 Special activities here:
| | |
| --- | --- |
| | It's never too late for Easter.......eggs! In the tradition of DVD Easter eggs I thought it would be clever to add hidden colorful eggs to hatch all over my site. Since I have some trivial knowledge of CatDog and behind the scenes, thanks to crew I've met, and all sorts of different CatDog collectables such as all the books, I thought it would be fun to hide some small pieces of CatDog trivia that not the usual fan knows. I will keep you up to date with how many eggs are on the site. Currently there are 6 eggs. They aren't hard to find at all, could be just some random phrase linked, or a picture linked, anywhere on the site. Best of luck finding them. and enjoy breakfast! |

UR Cat! Terrific! You enjoy the finer things and
relax with a good book and classical polka!
You're an independent thinker and very smart.
With a strong mind you make a good leader with
fabulous ambitions. You are organized and can
be a bit of a perfectionist striving for the
best in life. You tend to be a bit reserved,
because you dont always go with the crowd. You
rarely accept one opinion without considering
more reasons first. You are passionate and
stand up for what you believe often. You are
highly emotional and willing to go that extra
mile for romance with your loved one. You love
compassionately always there ready to help and
offer your wisdom and advice. Like a feline,
you only purr for those worthy of your
attention, and only when you feel like it,
desiring alone time to contemplate ideas and
relax in peace. Meow.

Are you Cat or Dog, on CatDog?
brought to you by Quizilla

Which Greaser member are you, from CatDog?
brought to you by Quizilla

---
This is just in case for whatever reason
the drop down menu doesn't work for you