Happy Fifth Anniversary CatDog!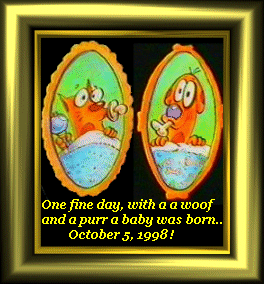 background best viewed with 1024 by 768 pixels, desktop setting.
FIVE GOLDEN CATDOGS! Welcome to the fans anniversary tribute to CatDog! October 5, 1998, CatDog debuted on Nickelodeon as a regular series. Now is your chance to do something very special to commerate CatDog and the team. This is a special five year anniversary page with all sorts of fan love! If interested in being apart of the page please email me, or contact me through other means such as mailing list, or forum. The CatDog Candy Forum has a post for it in the "Cat Diggety Dog" area. I've known many fans that have passed in and out over the years. If you're a long lost catdog fan but would still like to commemorate anything having to do with CatDog then email, visit the forum, post in the list, or even simply sign the guestbook to let me know what you'd like to do and how I can reach you. I hope I can get a nice amount of participation.
Here are some ideas you could do to contribute:
description of what you enjoy about the show, (memories, favorite moments, how much CatDog has meant to you)
drawings, artwork of CatDog characters, or related to show (such as CatDog's house, Greaser clubhouse, etc)
photos like of yourself, and, or favorite CatDog stuff you might have
poems, song lyrics, short fanfic story ideas having to do with the show
favorites list like a list of favorite episodes, and or moments and tidbits you enjoy
praising your favorite character(s)
talk about a favorite actor(s) or crew on the show
tell us something about you like do you have a website, your welcome to put your email down, and other favorite cartoons and shows you like, whatever you wish to tell
So you can do any one, a combination or something else not mentioned but related. Make sure it's for and about CatDog. Tributes short or long, it doesn't matter. What's important is getting as many fans possible. If you don't want to do something big that's fine. I'd rather have many short tributes than few long ones. So please find it in your catdogular heart to send at least a little something.
**NOTE**If you want to add something now, and then add more later you are welcome to do so. For example you make a list of your favorite episodes, but then decide to draw a picture but need time you can send the episode list to me, and I'll post it, and then update your tribute area with the drawing you made. Whatever you'd like to add later.
email me at:meowwoofy@yahoo.com, with the subject Happy Anniversary CatDog, so that I know it's your tribute. Thanks so much.
---
And now...The fan tributes...
---
AWillow76(Fay)
Ode to the CatDog behind CatDog:
Tom Kenny & Jim Cummings.
Music to my ears.
Those names may not be familiar to you,
but these might:
Heffer, Peaches, Cliff, Dog, and The Mayor; Gary, Patchy, Cupid, Carl and Spongebob.
Lionel, Fat Cat, Nimnul, Monty, Don Karnage, Louie, Lucky, Lurch, Pete, Bonkers, Bogus, DW, Dr. Robotnick, Razoul, Ed, Tigger, Mr. Bumpy, Fuzzy, Cat, and who could forget Pooh!
They are just SOME of the WONDERFUL characters these 2 talented men have given life to.
Let us take a moment to ponder that chapter in their lives where they voiced the greatest bi-cranial quadraped in animation history.
Yes, Ladies and Gentlemen, I am talking about CatDog. Their wonderful antics, from walking and talking, to sharing and dating, and even hygiene (we never DID learn how they went to the bathroom) and nutrition, they give new meaning to the phrase "Two heads are better than one".
Promoted back on Oct 5th, 1998 as: "Not the Same old Song and Dance", let us fondly remember with a smile on our faces and in our hearts, that lovable 2 headed pet, CatDog. Hi-Ho Diggety! & Tuuuurrrific.
---
_,;:Catdog Tribute:;,_ by Mike J. Tierney.
It all started one cold and snowy winter when the latest rugrats movie had just reached out small theater. I was sitting waiting for the movie to start when this preview came on that just yanked my attention to it. "What's this?" I asked myself. The words on the preview called it CatDog, but that didnt give much hint to what i saw next. A cat attached to a dog at the hip! When the preview was over, as you can possibly guess, i was very anxious to see the show.
When the fist episode came on, I was very excited. A wacky dog attached to an intellegent cat, what a pair! It seemed like everyone would like this show because of the many oddities and contradictions it brought up. This was just too darn funny. CatDog had established a fan base and got in a few good seasons, but things then made a turn for the worse.
Nick, deciding rugrats and rocket power were making them better money, moved CatDog to a poor time slot. There were still new episodes every now and then, but those were dwindling. Soon after, nick decided to cancel any orders for new CatDog episodes and not order any more. The fans CatDog had were outraged, but nick would not respond to their emails requesting even just an explination.
To this day catdog is still aired on Nick, but this is soon to change. As most of us have heard, nickelodeon is taking CatDog off the air, but it will continue to be played on NickToons TV. After all this time we fans have put into the show, nick is giving it the big red stamp!
--Why I liked the show...
I guess i liked catdog because i sort of saw myself in it. Catdog was more of a loner, everyone treated them horribly because they were different. CatDog pretty well sums myself up too. I am very goofy most of the time, but i am also pretty smart. The greasers are like my brothers. They are always trying to hurt me and insult me. Winslow is like my brothers in a way too, because like he does with catdog, they are always trying to use me to get their stuff done. Of course, like Cat, I am always trying to find ways to make money off others.
Happy anniversary CatDog!
---
A Praise to Cat
By Laura R. Starr (Cat17)

In honor of CatDog's fifth anniversary, I'm doing a tribute to my favorite CatDog character, Cat. I'm not sure when I first started watching CatDog but before long I started to have a "crush" on Cat. I know it's crazy but its true. I soon realized that Cat and I have some traits in common. We're both intelligent, likes to read novels, not athletic (I like to watch baseball, though.), and do not like roller coasters (I rode on a roller coaster once and didn't like it a bit). Unlike Cat, I don't like to go to museums (unless there's things that interest me) and am not the romantic type. Since Cat seems to have a leader-like ability at times, my nickname for him is Cat-rah (-rah is Lapine for prince, leader, and chief rabbit). Even though I don't watch CatDog as much as I use to, Cat will always be my favorite character. All hail Cat-rah!
A Tribute to Jim Cummings By Laura R. Starr (Cat17)
I was surprised (and shocked) when I learned that Jim Cummings did voices in some of my favorite Disney cartoons, which are Chip 'n' Dale Rescue Rangers (Monterey Jack, Fat Cat, Prof. Ninmul), TaleSpin (Don Karnage, Louie), Darkwing Duck (Drake Mallard/Darkwing Duck, Moliarty, Nega Duck), Goof Troop (Pete), Bonkers (Bonkers D. Bobcat, Lucky Piquel), and Jungle Cubs (Kaa the Snake). Of course, Jim did more voices than the ones mentioned like Lionel the Lion from "Dumbo's Circus", Pooh and Tigger from "The New Adventures of Winnie the Pooh", Ed the Hyena from "The Lion King" and "Timon and Pumbaa", and of course Cat from "CatDog." Fortunately for me, Jim is still doing voice acting. Keep up the good and hard work, Jim!
---
White Tiger
I just came to celebrate my fav bicranial quadraped. Got out all my CatDog party supplies and had a grand time dressng my little dog Alexis in CatDog slippers and party hats. She was pretty freakin' funny in those slippers. I'll try to get a pic of it. lolol. CatDog confetti everywhere.
Wow. it's been a long time since the 1st time i saw them. 1998-man I was only in 6th grade then, but I enjoyed every minute of it. From the first ep, to discovering big CatDog fan sites such as Kristen's in the winter of 99',to the first fanfic i read about CatDog which was by Snow Leopard(a former member of this group and the one whom I based my first nickname on this group after: "White Tiger". I remember the excitement I got every time new eps were coming on especially when the Halloween ep was goin' to be shown for the first time: I was so determined to see it that I paid my mom a hundred dollars to let me use the VCR that night (crazy, yes, but I'm a very extreme fan to my cartoons),she eventually gave it back though. lol. I remember the vicious war with the rugburns and their stupid clan. The great controversy over it, The signing of the petition, The hrs. I spent taking pics of CatDog eps so everyone could enjoy the eps. The time I spent searching all over my state for CatDog stuff, the letter Kristen got from PH, the sad, sad day I found out that there would be no more new eps of CatDog because Nick stupidly cancelled them. The time I spent trying to convince Nick that CatDog was still cherished by people.
From all this, my love for CatDog, the sanctuary that I have created in my room, and the internet are all that's left of the beloved creature I have come to know as the best animated characters I have ever had the pleasure of dreaming of. "U'll be in my heart 'til the day I die, no matter how interested I become in other cartoons, u'll always be no.1 in my book." (BAKA Nick!) Wow...what an exciting yet depressing letter. I better stop now, I might make myself shed a tear(lolol)anyway I hope everyone enjoys this special day. Cause I know I have. :)
CatDog,GatoPerro,ChatChen,NekoInu Forever:
CatDogKuzcoZim,
White Tiger,
Arishi,
:) *Alisha* :)
---
Tornado188
Hello, catdog what can i say, there are great. I am 20 years old and a huge catdog fan. it all started when i was like 16 or 15 i had a dream that i was connected to cat ya pritty weird after that i started watching it and just fell in love. I started collecting stuff. I made a 40 min tribute video for catdog. some of the video is in the yahoo site found at yahoo groups and also stuff i collected is in the site. So Thats it They need to make a catdog movie.

Happy Anniversary Catdog
---
Johny
Happy birthday catdog! I love this show, and especially these episodes:
Party Animal
The Island
the one with leash laws (New Leash on Life)
Dog's fear of aliens (New Neighbors)
It's a Wonderful Half Life
Brother's Day
---
MichelleB_lover
Dog is very cool! He's so cute and reminds me of Snoopy sometimes. I love his song with the ukulele on the traffic island, and I liked the time when he teased cat with his little puppet. I love Dog cause he reminds me of another fun character Spongebob, they should be best friends! Hi ho diggety happy 5 catdog!!

Also a shout out for my favorite girl Shreeky! I am short and blonde just like her and not fond of dresses. I love her tude! and her crush on dog I think they should date! Cat could just umm, well stick himself behind the door while they date. or hide or something. or cat could have another date with him and they could double date.
---
h2obug11- Annette
Catdog Tribute

Wow! Five years! I remember when the show first aired in the fall of 98'. I didn't really understand it at first.but as time went on I grew to love it.and five years later.I still love it!!! And the reasons for it are infinite. Practically everything about it I adore. The storylines are creative, interesting, humorous, and adorable.

The main characters Cat and Dog I find to be the most loving and sweetest cartoon characters of all time. Other shows will come and go in my life. but CatDog will always remain a favorite. I will love this show for a looooooong time!

CatDog Forever!!! :)
---
Gato
Happy anniversary CatDog! some drawings of baby Cat: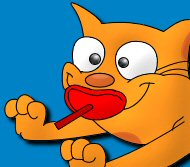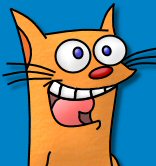 ---
doggles
Dear Dr. CatDog have a happy anniversry please put this on tribute page. Dog you are the man! I love playing baseball and have a dog just like you named terry. he's so much fun and we have to hide garbabe cans hihodigity!
---
Chris
CatDog was one of the best cartoons that Nick ever had. The cartoon was hilarious, and very imaginative. It is unfortunate that Nick chose to bury it before it was given a fair shot, not to mention the fact that there are still episodes which have not even aired yet in the U.S. Not only the title characters, but also supporting characters such as Winslow, and Lube will ensure this cartoon as one of my all-time favorites.

A few of my favorite episodes include: Guess Who's Going to be Dinner, CatDog Candy, Neferkitty, Lube in Love, Cliff's Little Secret and the Halloween special CatDogula.

Up yours Nick and Long live the Great MeowWoof!
---
Carlos
CatDog

A different, curious and strange animal. It name is CatDog. And CatDog is the only and the one. Yes, I haven't seen another animal like CatDog. A dog and a cat joined! And brothers! Wow. Can you imagine it?

How can live a cat and a dog joined? May be in middle of discussions… No, a dog and a cat can live without discussions. Although it have many different things, it can live with a great love.

Dog loves Cat, and Cat loves Dog. An examples: in Full Moon Fever, Dog wants to be a normal Dog. In this episode Dog appears like a wolf and our friend wants to join to the Greasers, in order to be a normal dog. Finally, Dog can't do it, `cos like it says: "Sorry, but the only tail that I want to have is Cat". I like it.

Another example: in The end of CatDog, now Cat wishes to be a normal Cat, without a Dog. But Cat feels that it can't speak with a normal tail, when Randolph try to be a good friend of Dog, in the restaurant, in the Disco. Finally, before the separation, Cat says: "I wanna be a CatDog, CatDog yesterday, CatDog today, and CatDog for ever". Cat can't live without Dog and Dog can't live without Cat. However, they are brothers.

Well, CatDog is special for me, maybe `cos I have never seen an animal like CatDog. I like a lot all the adventures of CatDog in Nearbourg, in his house (What a house! A fish and a bone joined).

And the gang:

Winslow, oh, Winslow (Tito, in Mexico), another strange animal, a blue mouse, without moustaches, and always looking for a troubles for CatDog.

The Greasers: I hate the Greasers. Poor Cat, when the Greasers fight with CatDog, Cat feels the pain in your body.

Randolph: a curious cat, I like so much, and I love it!

Lola: Another of my favorites. May be `cos Lola can speak Spanish. "Padrísimo!!!"

Mervis and Dunglap: I would prefer Dunglap, but both are good friends of CatDog.

Rancid Rabbit: Another of the "bad people" in the program and in the city.

Mr. Sunshine: I hope that some day Mr. Sunshine will smile, like in the episode when Dog take photos of everybody, Picture this.

Eddie: another curious and strange animal, what a chipmunk! "I wanna be a Greaser!"

I like CatDog also `cos I can identify me with CatDog: sometimes I'm Cat (being tranquil, being selfish, being intelligent, reading a good book), sometimes I'm Dog (being crazy, playing like a little boy, loving the Mexican food, running when an airplane fly in the sky (I love the airplanes and when a big airplane fly above my house, I run to watch it), someone with very good feelings). But Cat is my favorite, and I love it, like says Randolph.

My top ten of CatDog:
1. Fetch episode.
2. Brother's day episode.
3. Cat and Dog playing in the space in the beginning of the episode New Neighbors. "Dog, this is stupid!" "Cat, I want to play that I'm a space hero and you are the monster..." "OK" "Oh bad monster, I will destroyed you!" "NO, I´m very bad and I'm going to kill you, and after I'm going to detroy your planet!" "CCat, what happen with you?" "Who is cat?" "Gulp, I don't want to play this, aaaaah!" Lol, I like so much this part.
4. Fishing trouble episode.
5. Winslow naked! In the episode Hotel CatDog.
6. The battle of food in the episode Poor Shriek Girl (overcoat with the cake fights to Rancid, lol).
7. Thanksgiving day episode.
8. Randolph.
9. Winslow kissing to his girlfriend and crying for his girlfriend in the episode Winslow falls in love.
10. The song in the episode of CatDogula when CatDog go to the houses looking for candies: "Halloween ,Halloween…"

Congratulations for the creators of CatDog. CatDog is something unforgettable for me. Fortunately, CatDog stays in Mexico, CatDog appears in the Mexican TV. For this reason Mexican people know about CatDog (children, boys, girls, teens, adults). CatDog and all his gang speak Spanish. Thanks CatDog for give me entertainment, joy and happiness.

Your Mexican friend, Carlos.
---